At home, when a meal is good, I lick the plate. I made this salad for lunch, dinner, and lunch again the next day. I licked the plate each and every time. It is no secret that I love my veggies. I wouldn't post a recipe about salad unless it was positively divine!

There is a salad at work that I love. It is a warm gem salad, but it has too much oil for me. I decided to create my version. What I ended up with was something very different and even better.
I am not big on aioli or mayo. In fact, I probably eat it less than once a year. Emulsified oil really isn't for me. This salad uses a homemade garlic aioli. It is super easy to whip up and makes all the difference in the final dish.
Tofurky's new Andouille Sausages were also incorporated into the recipe. They are my favorite Tofurky product. You can use them, something else, or omit them entirely. The andouille flavor does, however, add a special oomph to the salad.
I hope you enjoy my new favorite salad, make it thrice, and lick the plate! *smacks lips*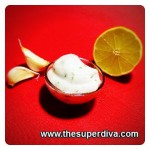 GARLIC AIOLI
Prep Time: 5 min
Equipment Needed: Food Processor, Blender, or Immersion Blender
Makes about 1 1/2 cups
INGREDIENTS:
2-3 cloves of Garlic, minced
1/2 c unsweetened full fat coconut milk
1 c Canola Oil
Juice from 1 Lime or Lemon
1/4-1/2 tsp xantham gum (as needed)
1/2 tsp Parsley (dried or fresh)
INSTRUCTIONS:
1. Using your blender or processor of choice, combine garlic and coconut milk.
2. Slowly drizzle in canola oil and then Lime or lemon juice
3. If mixture doesn't thicken enough (sometimes it doesn't), add xantham gum in increments of 1/4 tsp until desired thickness is reached
4. Using a fork, stir the parsley into the aioli
5. Store in the fridge. It should keep for about 2 or 3 days.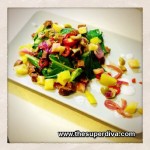 SPICY WARM GREENS SALAD OR THE SALAD SO NICE I MADE IT THRICE
Prep Time: 5 min
Cook Time: 10 min
Equipment Needed: Sauté Pan
Serves 2 (or 1 if you're greedy like me)
INGREDIENTS:
1 tbsp Olive Oil
4 Garlic Cloves, minced
3 slices of Onion, chopped
6 Pimento Stuffed Olives, sliced
1 Jalapeño, sliced
1 Tofurky Andouille Sausage, chopped
4-6 Leafy Green Leaves (Little Gem, Romaine, Collards, etc.)
2 tbsp Apple Cider Vinegar
1/2 c Heirloom Tomato, chopped
2 1/2 tbsp Garlic Aioli (see recipe above)
INSTRUCTIONS:
1. In a saute pan, heat olive oil over medium-high heat
2. Reduce heat to medium
3. Add garlic and stir for 1-2 minutes
4. Add onion, stir occasionally for about 2 minutes until onions start to turn translucent
5. Add olives, jalapeños, and Tofurky
6. Cook for about 5 minutes
7. Add the leafy greens and apple cider vinegar, stir
8. Cook for no more than 2 min. When the greens start to wilt slightly, remove from heat
9. Spread about 2 tbsp of garlic aioli in a circle on the bottom of a dinner plate.
10. Place greens mixture on top
11. Sprinkle tomatoes and a little extra aioli over greens
12. Enjoy! Happy plate licking!
© 2013, the superdiva, dk. All rights reserved. www.thesuperdiva.com