The only makeup I wear is mascara and lip gloss. Hurraw Lip Balm to be exact. I wrote a post about it awhile ago. The Earl Grey surpassed my love of the Chai Spice flavor. It is true love this time, I swear . . . but I digress. 😛

I've been on a vegan mascara hunt. After slowly converting to veganism for food and weeding out the major non-vegan items in my closet and life, I found my non-vegan mascara staring at me. Spending crazy amounts of money on makeup is neither in my budget or something that I am willing to do. I want my eyes to have a little pop for next to nothing. Yes, I knew it would be a challenge to find cheap vegan mascara, but I was determined to succeed!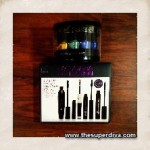 After a Google search, I discovered that Tar-zhay (Target) carried a makeup line called e.l.f. (Eyes Lips Face) that was vegan! I'd seen it before and it was cheap. To my delight, there was a four mascara set by e.l.f. that was on clearance for $8 and a 10 nail polish set on clearance as well! I them brought home and then noticed they were "Made in China." Hmmm. I wanted cheap vegan mascara, not code for "Use at Your Own Risk." There is very little regulation in China, so even though it might be vegan, you never know what other unregulated harmful chemicals might be in it and I don't want to risk something like that on my skin and so close to my eyes. Sadly, they both got returned.
While wandering around the makeup aisle, I found Physician's Formula Organic Wear Mascara. No parabens, synthetic dyes, cruelty-free, no GMOs, all organic, no fragrance and made in the USA! Sold! The packaging was cute too. This probably won't be my final choice because it clumps a little as you apply it. You really have to make sure you do the mascara wand wiggle as you apply it to avoid clumping, but for about $8 it'll do! Unfortunately, I just noticed it has Organic Beeswax which technically doesn't make it vegan! Argh!!
In my quest to find a suitable vegan mascara, I stumbled upon a recipe to make your own vegan mascara. It supposedly lasts only 2-3 weeks, which would mean I have to make it far more often than I'd wish. Knowing me though with my homemade body and face scrub, I'll be making my own mascara and writing a post about it sometime in the near future.
Do you have a vegan mascara that you like that doesn't have the price tag of your first-born child? I'd love to hear about it in the comments!
© 2013, the superdiva, dk. All rights reserved. www.thesuperdiva.com