*smacks lips* I was going to write an ode to my new silicone baking pan which I bought to make quinoa cakes in for a vegan potluck that I went to recently. My cupcake pan never seemed like the proper shape for quinoa cakes. This new pan was perfect!

My birthday has come and gone, but that doesn't mean that I have stopped celebrating. I am super happy these days because I have so many things to be grateful for. Despite all of this, I had yet to give myself a proper celebratory dessert. The options in the bakery section of Whole Paycheck (Foods) didn't catch my interest. The idea of baking an entire cake only to eat two bites wasn't appealing either. Then, I thought about my new baking pan.
For me, growing up, the frosting was always the best part of the cake. I rarely make cake or cupcakes. A mini layer cake is the best solution for me because I can't overeat and I get to have my frosting fix.
This recipe was inspired by a vegan chocolate cake recipe I saw on allrecipes.com. It was simple, quick and only required basic baking ingredients. The recipe was then modified for a ginger vanilla cake and the chocolate buttercream frosting recipe was my creation.
I've noticed sometimes, that as much as a like using coconut sugar, my desserts could occasionally use a little more sweetness to them. This time, I used half coconut sugar and half regular vegan sugar. it came out splendidly if I do say so myself.
If you use the same baking pan, the recipe will yield 6 cakes that can then be sliced in half lengthwise and turned into 6 mini layer cakes. Trust me when I say that half a mini layer cake is plenty, but if you wish to devour a whole one, I'm not going to stop you! 😉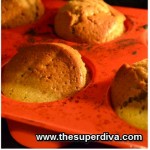 MINI GINGER VANILLA BEAN LAYER CAKES
Prep Time: 15 min
Cook Time: 15-18 min
Cool Time: at least 30 min
INGREDIENTS:
1 1/2 c All-Purpose Flour (or Whole Wheat Pastry Flour or a mix of the two)
1/2 c Coconut Sugar
1/2 c Granulated Sugar
1 tsp Baking Soda
1 tbsp Ground Ginger
1/2 tsp Nutmeg
1/2 tsp Allspice
1/2 tsp Cinnamon
1/3 c Canola Oil
1 tsp Vanilla Extract
1-2 Vanilla Beans
1 tbsp Distilled White Vinegar
1 c Water
1. Pre-heat over to 350 degrees
2. Sift together Flour through Cinnamon
3. Slice Vanilla Beans lengthwise and scrape out the seeds with a spoon
4. Combine Canola Oil, Vanilla Extract, Vanilla Bean seeds, White Vinegar, and Water
5. Add sifted flour mixture to wet mixture and combine
6. Pour batter into a 2 c (or larger) measuring cup
7. Pour into mini cake pan until each cup is about 3/4 full and/or all the mixture has been used
8. Bake for 15-17 min or until a toothpick inserted into the center of each cake comes out clean
9. Let cool for at least 20 minutes
CHOCOLATE BUTTERCREAM FROSTING
Prep Time: 5 min
INGREDIENTS:
12 oz Powdered Sugar
2 1/2 tbsp Earth Balance
1/4 c No-Sugar Added Coconut Milk (or your favorite non-dairy milk)
1 1/2 tbsp Vanilla Extract
3 tbsp Unsweetened Cocoa Powder
INSTRUCTIONS:
1. In a mixer, combine all ingredients until frosting is smooth and shiny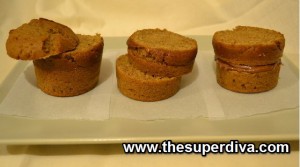 TO MAKE THE MINI LAYER CAKES:
1. Using a serrated knife, slice off the top rounded part of each cake
2. Slice each cake lengthwise in half so that you end up with two layers for each cake
3. With a butter knife or back of a frosting spatula (preferred), add a large dollop to the top of the bottom half of each layer cake and spread it out a bit
4. To make it easier to apply the frosting and manuever each cake, put each mini cake onto a small square of wax or parchment paper.
4. Place the top half of the cake layer on top of the frosting making sure it isn't going to move around.
5. Spread another dollop of frosting out over the top of the layered cake
6. Insert a toothpick down the center of each cake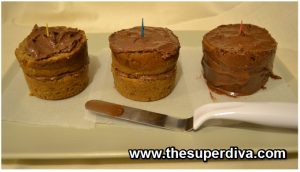 7. Apply a light coat of frosting around the sides. This is called the "crumb coat." It doesn't have to be neat.
8. Let the frosting harden for about 15-20 minutes
9. Apply another light frosting layer to the sides
10. Remove the toothpick
11. Spread out a little more frosting over the top making sure it is nice and pretty!
12. Allow the frosting to harden for another 15 minutes or if you can't wait, dig in!
13. Enjoy!
© 2013, the superdiva, dk. All rights reserved. www.thesuperdiva.com