Peaches! Peaches! How do I love thee? Let me count the ways . . .
One of my favorite co-workers gave me about 25 peaches from his garden. I love peaches, but there are only so many things I know I can do with them. I posted on Facebook that I had come into a wealth of peaches and wondered if anyone had some creative ideas for peach recipes. Samara, an old friend of mine who is traveling halfway around the world, sent me a link to a mini peach cobbler recipe. She described it as "a peach with a cookie baked on top of it." *salivates* Warm peaches and cookies sounded like my kind of recipe!
The challenge for me was that since it wasn't vegan and it called for an egg white, I had to do some internet research for egg white substitutes. PETA has a great vegan baking cheat sheet for eggs (I pinned it on Pinterest); however, they don't have an egg white substitute on it. After some hunting, I figured out that you can whip together equal parts agar powder and water, chill and whip again. One tablespoon of agar powder and one tablespoon of water equals one egg white! I didn't have any agar powder so I used agar flakes. My dough came out a little dry. So, I added a tablespoon or two of my new favorite, chocolate coconut milk and it worked out beautifully with a hint of chocolatey flavor . . . Mmmmm!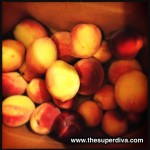 MINI PEACH COBBLERS
(serves 6)
Prep Time: 10 min
Chill Time: 10 min
Bake Time: 30 min
INGREDIENTS;
1 tbsp of agar flakes or agar powder
1 tbsp water
4 tbsp (1/2 stick) Earth Balance (vegan butter)
1/2 c granulated sugar
1/2 tsp vanilla
1/2 tsp cinnamon
1/3 tsp baking powder
1 c + 1 tbsp all-purpose flour
1 to 2 tbsp of So Delicious Coconut Chocolate Milk (or your favorite vegan milk)
3 slightly under ripe peaches
1 tsp cinnamon
1. Preheat the oven to 350 degrees
2. In a small bowl whip together agar and water with a fork or whisk until well blended
3. Place agar mixture in the freezer for about 10 minutes
4. Remove agar mixture and whip again.
5. Cream butter, sugar, vanilla, 1/2 tsp cinnamon, and agar mixture together
6. Combine baking powder and flour in a separate bowl.
7. Add flour mixture to butter mixture.
8. Since I used an egg white substitute, my dough came out a bit dry. Add 1 tbsp of Coconut Chocolate Milk at a time as needed until cookie mixture forms a ball.
9. Place dough in refrigerator to chill for at least 10 minutes.
10. Line a baking sheet with parchment paper (foil will quickly burn the bottom of the peaches!)
11. Place peach halves cut side up and bake for 10 minutes
12. Divide dough into 6 equal pieces.
13. Roll each into a ball and flatten out into about 2 1/2 inch circles.
14. Using the remaining tsp of cinnamon, sprinkle the cinnamon on each of the six warmed peach halves.
15. Place cookie dough circles on top of the peach halves.
16. Bake for another 15 to 20 minutes or until tops are slightly golden brown.
17. Enjoy with vegan ice cream, cashew cream, coconut cream or my favorite: plain!
Read More
Cashew Cream . . . If you don't do dairy, you may find it frustrating when a recipe calls for heavy cream or even sour cream. I stumbled upon cashew cream in Tal Ronnen's book, The Conscious Cook. Since it was my first vegan cookbook, The book really opened my eyes towards vegan cooking. In his book he recommends soaking the cashews overnight. I don't think that far ahead. You don't need to soak the cashews overnight. My cashew cream tastes just fine . . . at least in my opinion! 😉
You'll be surprised by all the uses for cashew cream. It can be used instead of heavy cream, whipped cream, sour cream (add a little lemon juice or apple cider vinegar if you want) and even in cream sauces like alfredo. With a couple modifications to the basic recipe, cashew cream may become your new favorite all purpose sauce!
Unfortunately, if you have a tree nut allergy, cashew cream won't work. You can however try things like silken tofu instead. The flavor may not be the same but if you are allergic to tree nuts, you don't know what you are missing anyway! 😛
CASHEW CREAM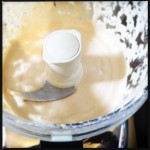 (makes 2 cups)
Prep Time: 5 min
INGREDIENTS:
8 oz cashews
1 tsp vanilla extract
1 tsp agave
1 c water
INSTRUCTIONS:
1. Blend in food processor (preferred) or blender for 2-3 min until smooth
*This should keep for a couple days in your refrigerator.
____________________________________________________
My new farm share box had arrived and I hadn't even finished the box from the previous week. I used the yellow potatoes, leeks and cauliflower to make a gratin. I must say, it turned out beautifully!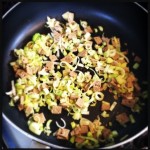 POTATO, LEEK AND CAULIFLOWER GRATIN
Prep Time: 20 min
Bake Time: 15 to 20 min
INGREDIENTS:
2 tbsp olive oil
1 leek thinly sliced
2 cloves of garlic or 1 1/2 tbsp granulated garlic
2 c cashew cream
1 c water
1 large head of cauliflower cut into 2 inch pieces
2 c (about 4-5) of your favorite potatoes (yellow or Yukon work best), thinly sliced
1/2 c water
Black pepper
2 c your favorite vegan cheese, grated if possible (1/2 cheddar, 1/2 Gouda or mozzarella is pretty good but just plain cheddar will do!)
*optional: 1 cup of seitan or tempeh, chopped into 1/2 inch pieces
INSTRUCTIONS:
1. Pre heat oven to 350 F degrees
2. Heat 2 tbsp of olive oil over medium-high heat.
3. Sauté sliced leeks and minced garlic (if using) over medium high heat for 5 minutes or until leeks are softened.
*If using seitan or tempeh, reduce heat to medium and add seitan or tempeh after leeks have been sautéed and cook for 5 more minutes
4. Reduce heat to low.
5. Add cashew cream, granulated garlic (if using) and water. Stir occasionally for 4 to 5 min until cashew cream thickens a little bit.
6. Put sliced potatoes, cauliflower and 1/2 c water into a large bowl and heat in the microwave for 2 to 3 min to soften the veggies. Otherwise, your gratin will be baking forever and honestly, who has the patience for that?!
7. Add black pepper to cashew cream sauce
8. Remove sauce from heat so sauce doesn't thicken too much
9. Spread a little olive oil (or use an olive oil sprayer!) onto the bottom and sides or an 8 x8 inch baking pan.
10. Place some of the potato and cauliflower mixture (about 1/3 of it) on the bottom of the pan.
11. Spoon some of the cashew sauce over the potatoes and leeks
12. Sprinkle or spread the half of the cheese on top of the sauce
13. Layer the potato cauliflower mixture, cashew sauce and cheese once again.
14. Bake for 15 to 20 minutes or until cheese is bubbling and top is slightly golden brown
15. Eat!
Read More